IranSportsPress.com- Varzesh3 conducted an interview with Iranian-Swedish footballer, Saman Ghoddos who recently scored for his side Östersund FK during Europa League qualification against Turkish giant Galatasaray. Ghoddos earned an invitation by Swedish national team due to his good performance last season. The 23 years old attacking midfielder played in two friendly matches for Sweden and scored a goal but he is still eligible to play for Iran.
The article is translated from Farsi to English by ISP's Ali Z:
Q: How did you start playing football? 

A: I started playing when I was 5 years old in Malmö, where I was born. I was there until I was 18. Then I went to Syrianska FC in the Swedish second division and after that I received many offers and they were prepared to pay good amount of money to my club. Finally, I have decided to join Östersund FK in the Swedish first division.
Q: You have grown up with your Iranian family. What effect did the Iranian culture have on you as a person and as a football player?
A: Both my parents are Iranian and they are originally from Ahvaz. I have many relative and friends in both Ahvaz and Tehran. I have never traveled to Iran but I would like to visit Iran. The Iranian culture has had a good effect on me. We have still kept our Iranian culture and traditions like Nowrouz (Iranian news year) and Chaharshabeh soori (fire festival) and we continue to celebrate them with my family.
Q: Östersund FK was in the fourth division back in 2011 but in such a short time they ended up in the first division, won the Swedish cup and now they play in UEFA Europa League. Did you know about the club's capabilities before you joined them?
A: I knew that the team had a very good coach who liked me. That was very important for me. The fact to play for a team where the coach likes you, was the main reason for me to join Östersund.
Q: How has the experience with the Europa league been for you so far?
A: This is the first time I play in the Europa league and it's a nice and enjoyable experience. Our game against Galatasaray was a very big and important one for me since we could play well and win the game.
Q: You had a very good game against Galatasary with one goal and one assist at home and creating a penalty in the away game. How did you see this game? 
A: For me, it was a very good experience. A big stadium full of supporters whom cheered for their team the whole game and I enjoyed it. This is the reason for me to play football. Because I like the pressure during such an environment. Also, we played very well, were not afraid of them and could finally get the result we were looking for.
Q: With the name and reputation of that club in mind, not many people saw any chance for you to win and this result left them astonished. Did you expect this result yourselves? 
A: Nobody thought we would win except us. We believed in ourselves and in our team and this was the reason for the win. Because we are not afraid of any team. We know that at this stage, if we win against CS Fola Esch we have the chance to meet FC Milan. Our goal is to play in the group stage and to reach that, we will have to win against any opponent we meet.

Q: In Thursday's game against Fola from Luxembourg in which you won with 1-0, you did not play. What was the reason?

A: In the game against Galatasaray i had a small injury but fortunately it is not severe and i will be fine until next week.
Q: How does playing in the group stage of Europa league effect your sports career?

A: It is very important because you see the level of other teams which play in Europe. You compete with them and then you realize whether you are at the same level or not and now i am certain of that.
Q: Do you like to play in eminent leagues like La Liga or the English Premier league?
A: Yes, certainly. This has been a dream for me since childhood and it is still. My games in Europa league are very important to reach that goal.
Q: Do you know the other Iranian players?
A: I don't know all of them but I know they are very good players, like Dejagah, also i know many of them play in the Netherlands and in Greece.
Q: Last year you accepted the invitation to play for the Swedish national team. We have a very good team in Iran which is already qualified to the World cup. It also has a very good coach like Carlos Queiroz who has been at the helm of Real Madrid and Portugal's national team. You have not yet played in official games for Sweden so you can still play for Iran's national team. Is that possible to happen?
A: Yes. I can still play for Iran since I have played in friendly game for Sweden and it is a great honor for me to play for Iran. My parents and family would become proud of me if i play for Iran's national team in the world cup, playing for Team-Melli is one of my dreams and i would definitely like to do that.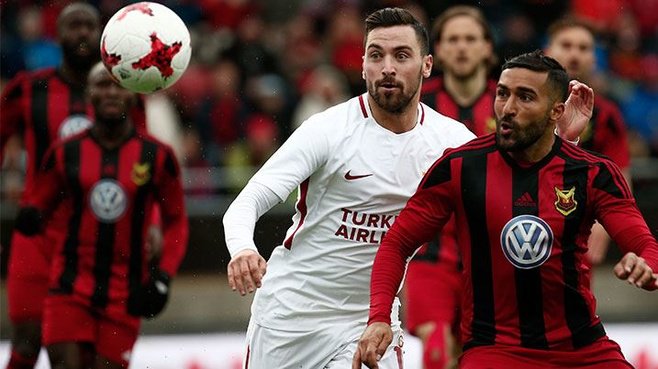 Q: If Carlos Queiroz invites you to the national team, would you accept it?
A: Yes, certainly.
Q: You are born in Malmö, the same city where Behrang Safari progressed but decided to play for Sweden. Have you spoken to him about it?
A: I spoke to him when we were in a training camp in Spain. He was there with Malmö and I, with my own team. I asked him about it and he said that i should play for Iran and should not repeat the same mistake that he made.
Q: Where is your favorite position in the field? Do you prefer to play as a number 10 or elsewhere?

A: I can play in different positions and play wherever the coach wants me to, but my favorite position is number 10.
Q: If you come to the national team, you will have to compete with many quality players. Are ready for that?
A: I have been competing my whole life and I am completely ready for it.
Q: One year is left to the world cup in Russia. Will you play in the world cup next year?
A: It is not very easy to answer this. Iran's national team consists of very good players. I would like to be part of it.